Our vision is to be a spiritual oasis
where lives are transformed.
Our Vision and Mission Covenant
---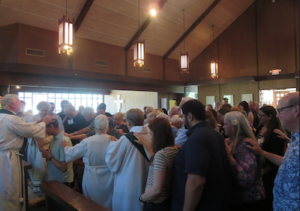 Our Vision: To be a spiritual oasis where lives are transformed.
Our Mission Covenant: We strive to follow Jesus Christ and his Great Commandment to "love God with all our heart and soul and mind and strength … and love our neighbor as ourselves." Therefore, to help us continue to mature spiritually as a people and thrive as a faith community, we covenant to:
Learn to live as disciples of Jesus in the modern world.
Focus energy and resources to make a greater impact in social justice and outreach.
Support parishioners through all stages of their lives.
Strengthen our community by holding courageous conversations within a safe space.
Deepen our welcome and accessibility to people of various backgrounds, ethnicity, ages, and situations.
Nurture our volunteers and leaders.
Joyfully share our abundance.
Read the full Mission Covenant here.
Mission Covenant Prayer:
Gracious, Life giving God, Thank you for the mission covenant that is setting our direction. Help us to hear your call to us, as we participate in various ways. As we continue to engage in these seven areas of our life, bring us life and energy to do the tasks. Keep the vision in front of us and help us to put this covenant into action. Amen.
At our annual parish meeting, we celebrate the prior year and commit ourselves anew to shared mission and ministry in the coming year. Read last year's Annual Parish Report here.
Our Leadership
---
Our Rector, Wilma Jakobsen, returned to her homeland of South Africa after spending 15 years in the United States, 6 of them as Rector at St. Judes. She expanded our vision of what it means to be Episcopalian in today's world, and helped us clarify our Mission Covenant. 
Our Vestry has Appointed a Search Committee who has launched the search for our next Rector. For more information on our clergy transition, click here. During this period of transition, St. Jude's continues to be led by the following individuals.
Vestry
The Vestry is the church's "Board of Directors", the elected lay leadership of the parish. It is an integral part of strategic planning and goal setting for the mission of the parish.  The vestry is called to support the parish mission by word and deed, to ensure effective organization and planning, and to manage resources and finances.
There are 12 members of St. Jude's Vestry. Four members are elected each year at the January annual meeting for a three year term of office.
Current Vestry members, by the year that their 3-year term ends:
2019: Liz Mulford, Shanie George, Ken Foot (Junior Warden), Judy Bailey
2020: Lauren Minkel, Scott Rotondo, Kathy Yates (Senior Warden)
2021: Jennifer Shearin, Beth Leonard, Wren Gray-Reneburg, Dan Putler
The Clerk of the Vestry is Elena Lamp, and the Treasurer is Jeffrey Pugh.
Assisting Clergy
The Rev. Bruce Bramlett, Assisting Priest
Bruce is an Episcopal priest and Christian educator specializing in world religions and inter-religious relations and inter-group relations.  He regularly conducts Holocaust education sessions in Bay Area schools and organizations. Bruce is also a Spiritual director at San Quentin's Death Row.
Convention Delegates
The Diocese of El Camino Real Delegates & Alternates St. Jude's at the Santa Clara Valley Deanery meetings, workshops, and the annual convention. Delegates are elected at St. Jude's annual meeting and serve a two year term; the first year as an alternate, the second year as a delegate.
Staff
Donna Araiza, Office Manager
Donna came to St. Jude's in 2007 after a long career in the advertising and publishing industry, most of it at the San Jose Mercury News.  At St. Jude's she assists the priests (in the office), vestry and parishioners; works on the Sunday liturgical bulletins, announcements, and other communications. She is also the point person for facility rentals, A/P and a host of other projects.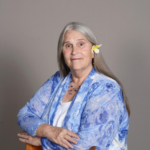 Laura Green, Music Director and Organist
Laura is a professionally trained organist and pianist. She has gathered and directed eight choirs and choral groups over 30 years, directed the music and accompanied several musical productions, teaches Suzuki piano, and is a published composer and arranger.  Laura directs the Choraliers, a senior outreach choir that performs for senior facilities.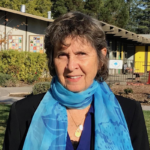 Billie Bandermann, Choir Director
Billie has been a singing instructor at De Anza College in Cupertino since 1983. She teaches beginning and intermediate singing classes and founded and directed the De Anza Women's Chorus (1992-2009).  She has sung with the Honolulu Opera Society, the Vintage Singers, and the De Anza Orchestra. She has been music director and vocal coach for many musicals.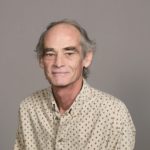 Steve Swayze, Watchperson
Steve is our Watchperson.  He ensures that the campus is safe and secure, assists with physical set-up for church activities and other events, and works with staff and parishioner leaders on various projects around the campus.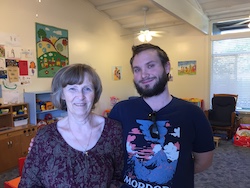 Erika Domokos and James Donnelly-Sheridan, Childcare Providers
Erika Domokos and
James
Donnelly-Sheridan are
 our childcare providers and provide professional childcare in our nursery during services and special services/events.
Our History
---
Our History
St. Jude's has been a thriving, vibrant congregation since 1962. Over time, there have been many physical changes to the grounds at St. Jude's, but our church has not changed in its commitment to caring for each other and our wider community.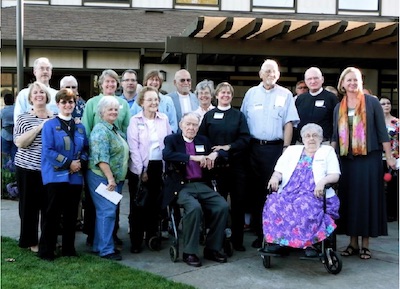 50th Anniversary Celebration in 2012 with Clergy and/or spouses who have served at St. Jude's, and Bishop Mary Gray-Reeves in front of the Parish Hall.
Early Days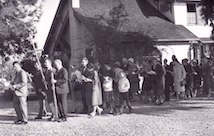 1962 procession, when St. Jude's was founded. The farmhouse (now our office) is shown in the background. Later, this grassy area became a parking lot and today it is our courtyard with the fountain and labyrinth.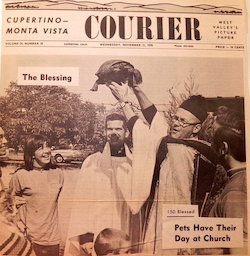 An early pet blessing from 1970. We still have a pet blessing service every October (but turtles continue to be unusual).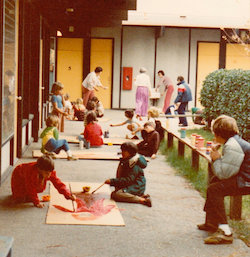 Our classroom wing in 1979. The classroom courtyard has just been renovated, including a new playground.
Service Together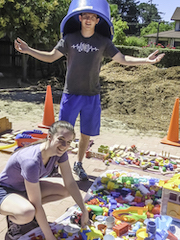 Two of our youth have fun while cleaning nursery toys.
Helping at Santa Maria Urban Ministry in San Jose.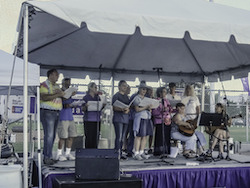 A St. Jude's team performs (and walks, of course) at the annual American Cancer Society Relay for Life.
Campus Updates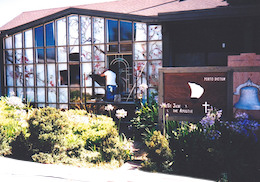 Installing our beautiful apricot windows in the sanctuary 1994.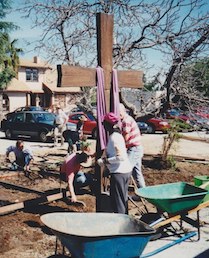 Parishioners complete landscaping for our new Parish Hall in 1996.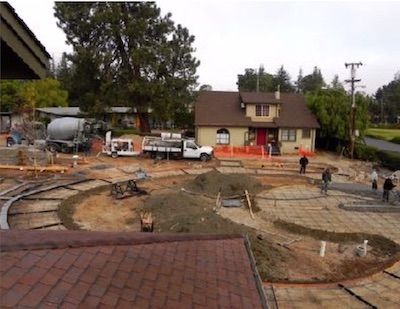 Renovation of our courtyard began in 2011, to add a labyrinth, paving, and landscaping.
Our Worship Together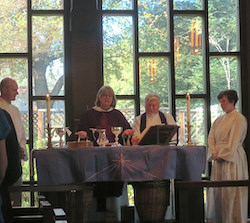 We come together each Sunday (here in 2018) to celebrate the Eucharist, to share "the gifts of God for the people of God."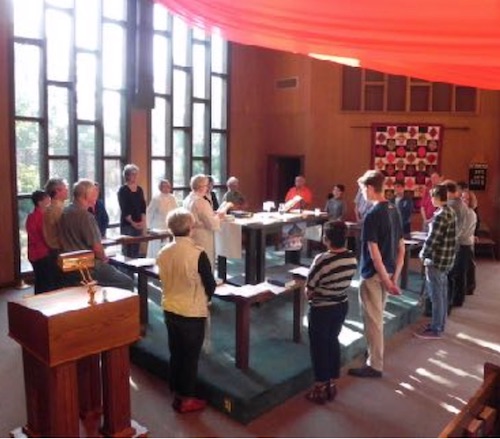 On Pentecost in 2012 with our Rector Search Committee.
We enjoy special Worship Services together in our courtyard.
Fun and Community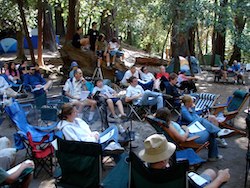 Parish camp, seen here in 2006, is an annual tradition for St. Jude's.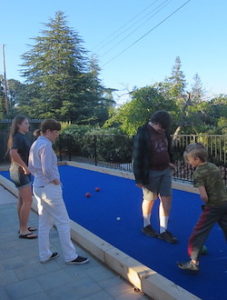 Parishioners enjoy our new bocce ball court near the children's playground.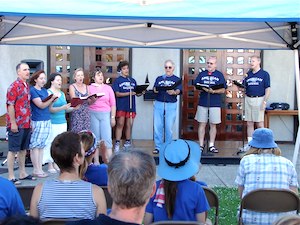 4th of July Talent Show and potluck supper, shown here in 2008. It's fun for the whole family each year.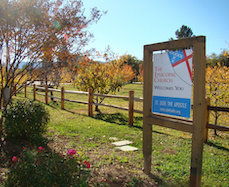 Our St. Jude's community makes new memories every year of our time together.  We look forward to creating those memories both with old friends and new friends that will join our community.
Wherever you are on your journey of faith, you are welcome here.
Our Religious Connections
---
St. Jude's is part of:
The Diocese of El Camino Real. Our Bishop is the Right Reverend Mary Gray-Reeves. Click here for more information on the Diocese. Bishop Mary will be retiring in 2020, and a new bishop has been elected this year, Rev. Canon Lucinda Ashby. For more information on her consecration in January 2020, click here.
The Episcopal Church and global Anglican Communion. Presiding Bishop Michael Curry is the 27th Presiding Bishop and Primate of the Episcopal Church.
Click here for more information on the Episcopal Church. Click here for more information on the global Anglican Communion.
Contact Us
---
You can reach us at (408) 252-4166, or email the office.
Our office hours are:
Monday to Friday, 9am – 3pm
For pastoral emergencies after regular business hours, please call the office at 408-252-4166 and you will be directed from there.
Our mailing address is:
St. Jude's Episcopal Church
20920 McClellan Rd.
Cupertino, CA 95014
Click here for our campus map and parking information.
Share your St. Jude's Story on:

St. Jude the Apostle Episcopal Church
20920 McClellan Rd.
Cupertino, CA 95014
(408) 252-4166