We are learning to live as followers of Jesus in the modern world and strengthening our community through courageous conversations.
Our Sunday Worship times are 8:00am and 10:30am, except on the 5th Sunday of the month and during summer, when we have a combined 9:30am service.
Sunday Worship
---
Our worship follows the Episcopal Church rhythm, the liturgical calendar, and usually the Revised Common Lectionary.
Children and youth are welcome in worship! For more information on activities during and after the service, see the Children and Youth section herein.
All are welcome at the Lord's Table to receive Communion of bread and wine, and/or to receive a blessing.
Gluten-free wafers are available; please ask the priest. Please note that our wine is alcoholic.
If you do not wish to receive Communion or prefer a blessing, cross your arms in front of your chest when the priest comes to you and you will receive a blessing instead.
Sunday Worship Bulletin
Sunday Worship bulletins for each of our services (including Easter morning):
8:00am
10:30am
9:30am (5th Sundays)
Special Services coming soon
You can follow along with the service and participate as you feel comfortable.
Sermons
Sermons are about 15 minutes long, Biblically based, theologically progressive, and thought-provoking!
To hear sermons from our various clergy and guests, click here.
Music
We enjoy a range of music from traditional, Episcopal hymns to global and contemporary songs and including choral (children and adult choirs), brass ensembles, and instrumental music. We also enjoy quarterly Jazz Vespers service.
Before and After Sunday Worship
---
Greeters will welcome you, offer you a worship bulletin so you can follow the service, and invite you to wear a name tag if you feel comfortable.
Newcomers are invited to complete a Newcomer Card (electronically or on paper), so we may follow up with you later to best support your search for a faith community or interest in getting more connected at St. Jude's.
People will be dressed from shorts and t-shirts to their "Sunday best."
We'll invite you after to our Parish Hall for coffee, light snacks, and relaxed conversation with other parishioners and clergy. A Host will offer to show you around and introduce you.
Let a Greeter or Usher know how we may help you!
Parking and walking-in assistance is available. Please park in the designated assistance spot near the sanctuary.
The church and parish hall are ADA accessible.
Our sound system has an inductive hearing loop to assist those with hearing aids (use "T" setting on your hearing aid).
We offer copies of the sermon during the service so you can follow along.
Gluten-free wafers are available at communion. When the priest comes to you, just whisper "gluten-free."
Clergy can bring communion to you at your seat.
Our 9:15am Sunday Community Forums cover a wide range of topics. Click here to go to the archive of forum recordings, including the latest forum.
Seasonal and Weekday Worship
---
Upcoming Seasonal Worship
(Links below are only live during the specific season)
Click here for our Advent/Christmas gatherings.
Click here for our Lent/Easter gatherings.
Click here to see the Weekly Announcements for additional gatherings and details.
Weekday Worship
We offer several opportunities for prayer and worship on weekdays. These include:
Contemplative Morning Prayer, held by the Apricot Window on Tuesdays, 9:15-9:35am. Pamphlets (click here) are available near the Apricot Window for prayer anytime.
Taizé Prayer services are held on Tuesdays, 6:30 – 7:15pm. A Taizé worship service involves sung and chanted prayers, meditation, a period of silence, and liturgical readings.
A Healing Service with Holy Communion is held on Wednesdays, Noon- 1pm.
Our sanctuary is available for prayer every day, 24/7.
Our labyrinth is available for prayer from sunrise to sunset.
Children and Youth
---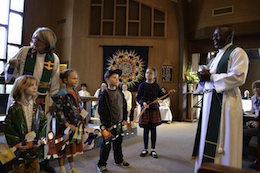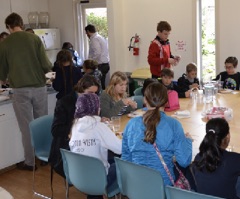 During Worship in the Sanctuary
Children are welcome in worship,
to sit with their families;
to use a small play area with quiet toys near the Altar, with plenty of space for parents to sit nearby; or
to enjoy the Narthex, with a rocking chair and speakers transmitting the worship service.
During Worship outside the Sanctuary
Child Care (birth to Pre-K): From 9am-noon on Sundays, we have a nursery staffed with professional, background-checked caregivers in our Room 1. Children may stay in the nursery during the entire worship service. Parents are welcome to take or pick up their children from the nursery at any time.
Godly Play (Pre-K to 5th Grade): During the 10:30am Sunday worship service, all children are invited to join us for Godly Play. Godly Play classes are generally split between Pre-K to 2nd grade and 3rd to 5th grades, and run during the first part of the service. The teacher will bring the students into the service to sit with their parents prior to Communion. See the bulletin for location details.
Youth Group (6th to 12th Grades): Youth group meets the first and third Sundays of the month. On the first Sunday of the month, they meet during 10:30am worship, and on the third Sunday they meet after 10:30am worship. See the bulletin for location details.
Additionally,
Children are also welcome to join us for Vacation Bible Camp each summer.
Youth Group gathers about quarterly for a church lock-in.  Check announcements for upcoming dates.
Campus Map and Parking
---
Our Campus
St. Jude's is situated on three acres of land at the southeast corner of Stelling and McClellan Roads in Cupertino, diagonally from DeAnza College.
We have a beautiful central courtyard, creating an inviting campus open to all with places to find spiritual connections and areas for intergenerational fellowship in large and small gatherings. The outer corner of our campus has a lovely apricot orchard, a tribute to our area's agricultural past.
On one end of the central courtyard is our church and parish hall. We have a memorial garden behind our church. On the other end of the central courtyard are two classroom wings with a gated, landscaped courtyard and playground, and the original farmhouse, which is used for offices.
Parking
You are welcome to park in any designated parking space. If all our on-campus parking is full, please park off Stelling Road (do not park in the church parking lot next door).
If you need extra mobility assistance, please stop your vehicle in front of the "parking assistance" sign near the center entrance to our campus (see map), and one of our greeters will come out to assist you.
St. Jude's is an inclusive community. We celebrate God's diverse creation and welcome everyone no matter your age, gender, sexual identity, culture, ethnicity, economic status, or physical ability. Whether you are familiar with church life or have no experience of any church, whether you are a lifelong Episcopalian or have no belief at all…
Whoever you are, wherever you are on your journey of faith,  you are welcome here.


St. Jude the Apostle Episcopal Church
20920 McClellan Rd.
Cupertino, CA 95014
(408) 252-4166